Please feel free to leave us any positive feedback in our contact form from your service, for your Esthetician or our facility. We look forward to hearing and sharing your kind words.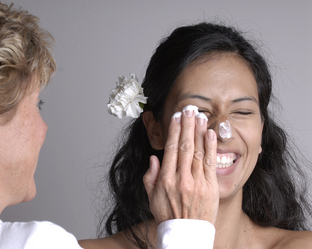 I got the sensitive skin facial, and really enjoyed it. The spa is very relaxing, and the decor is quite cool. It is in an historic building from the 1800 s, and the exposed brick adds a sense of history and style to the space. The owner/esthetician was knowledgeable and friendly, and the products used are mostly natural, and made in the USA. The prices are reasonable, especially considering the high quality of the service received. I would definitely recommend Clear spa, and will be returning as soon as I can. Thank you, R.S., Jan. 13
I'd give Clear Spa 10 stars if I could, had an amazing facial by Amy. Its a great atmosphere and she really makes you feel welcome. My skin feels and looks so rejuvenated! I would defintely recommend Clear Spa! Brooke, Jan. 14.
What an amazing experience! The atmosphere was intimate, inviting, warm and relaxing. Amy was wonderful in explaining each treatment and their benefits along with information on each product she used. Anyone concerned about their "first" time, don't be. Amy will walk you through each step and make sure that you are 100% comfortable.I felt like a new person when I left and was completely relaxed. I can't thank her enough for the wonderful results and the "me" time that working mom's forget to take. Thank you! Denise, Jan. 15
Getting a facial is a way of pampering yourself and getting one at Clear Spa was a wonderful experience! The spa is warm and relaxing! Amy is very friendly and knowledgeable. She is concerned of your needs, takes you step by step through the process and explains the products to you. Amy has definitely found her niche! When I walked in my face was dull and dry. Walking out it was full of color, nourished and soft. I highly recommend the spa and will be returning again! Kim, Jan. 29
At 65 I was hoping for a maintenance treatment. Instead I received an amazing transformation. My skin resumed a uniform tone and color and looks great. Once a month for the duration. Don, Feb. 12
Amy, thanks you for taking the time to treat me today. The massage was so soothing and healing. I am feeling much better, no headache. Thanks again! Janice, Sept. 20
Can I just say how extremely happy I am with my skin. You are truly an angel. My face is smooth and glowing. I was so relaxed in the wonderful bed....and I felt like I melted right into your magical hands. I cannot wait until my next experience......because that is what it is......a beautiful,transforming experience. Thank you so very much. Rebecca, October 29